Asphalt Mixing Plant
Compact / Mobile Series
Compact / Mobile Series
ATOM Series 500/600 (30t/40t)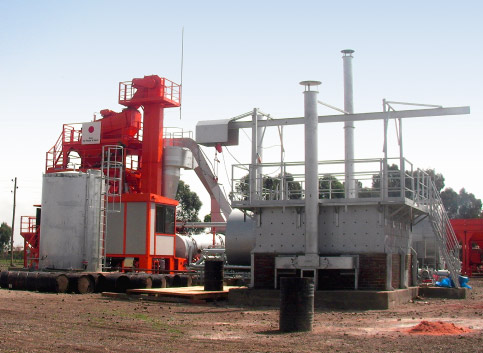 ATOM is a fully automated compact asphalt mixing plant for production of a high-quality asphalt mixture with stable production and low emissions of dust, noise, and nitrogen oxide. It is easy to install and dismantle, with a short transportation period.
Specifications
Type
ATOM-600
Capacity
Max.40t/H; Subject to moisture content 5%, Raise temperature by 150°C
Dryer Unit
Dryer
Heat-pack dryer
Burner
NTB-3D
Dust Collection
Unit
Standard
Dry bag filter
(optional)
(Primary)Dry cyclone (Secondary)Wet dust collector
Mixing Tower
Hot Bin
4 compartments
Weighing Scale
Remote digital;indication by load sell
Agg.:600kg×1.0kg
As.:80kg×0.2kg
Fil.:100kg×0.2kg (Option)
Spiral Flow Mixer
Twin shaft pugmill;600kg
Control
PC-based control panel
Standard required power
*For reference only
140kW
Standard required space
*For reference only
600m2 (31.5m x 19m)
Option
Shelters (Heat shelter, Weather shelter, Screen shelter, and so on), Class-B heavy oil burner, Conveyer scale, Filler supply system, Recycle system (Recycle unit, Top drum, Drum mixing plant), Hot storage silo
* Total enclosure is optional.
* The above specifications are subject to charge without prior notice due to improvements and/or modifications.
* The above-mentioned powers include standard accessories such as Asphalt supply system, Aggregate supply system, Fuel oil supply system, Filler supply system(option).
Mobile Plant NSB-10M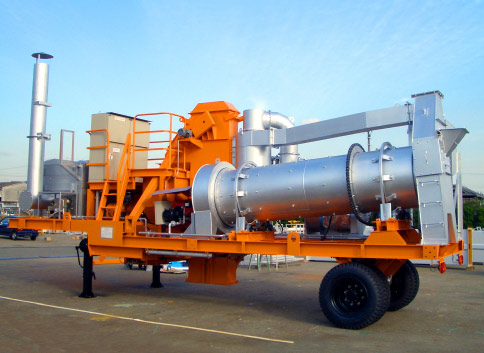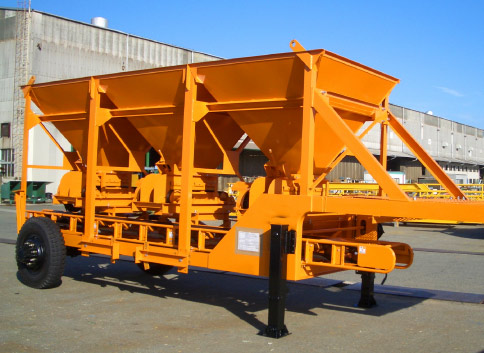 NSB-10M is a mobile-type asphalt mixing plant mounted on a trailer chassis. The dryer, primary dust collector, exhaust fan, proportioning (weighing) device, mixer, asphalt melting & supplying unit and control panel are mounted on the main chassis. Cold aggregate hoppers and feeders together with a collecting conveyor are mounted on an accessories chassis. A diesel engine generator is mounted on an independent trailer. A secondary wet-type dust collector and stack are provided as an independent and detachable unit. Cold aggregate charging and hot mix loading belt conveyors are provided as independent units respectively, in order to charge the cold aggregate into the dryer drum and to load the hot mix onto a truck.
Specifications
Type
NSB-10M
Capacity
Max.10t/H;
subject to moisture content 5%; raise temperature by 140ºC
Dryer
Unit 
Cylindrical
inclined dryer
φ965×3500mm
capacity:Max.10 t/H
Burner
Pressure fuel atomizing oil burner with auto-ignition.
45 – 130 liters/H
Dust Collection
Unit
Primary dry type dust collector
Single cyclone
(Optional) Secondary
wet type dust collector
VO Scrubber (Rectangular Venturi type)
Exhaust Fan
90m3/min x 300mmAq (at 100 ºC)
Mixing unit
Hot Elevator
Centrifugal discharging type bucket elevator
15t/H
Weighing system
Aggregate (200kg) : Volumetric hopper with level sensor
Asphalt (50liters/min) : Gear pump with preset revolution counter
Mixer
Twin shaft pugmill mixer with replaceable wear-resistant paddle tips and liners.
200kgs/batch, 5.5kW x 4P x 1/20
Asphalt Melting and
Supply System
Asphalt kettle
Direct heating type, 1000liters
Burner
Pressure fuel atomizing oil burner for Light oil (Diesel oil)
Control
Control system
Out door type
Push button switch and selector switch actuating magnetic contactors
Standard required electric power
37.35kW
Accessories
Cold aggregate storage and feeding unit, trailer type diesel engine generator
Inclined belt conveyor, Hot mix belt conveyor
* Some photographs in this page show plants fitted with optional equipment.
* This speifications in this page are subject to change without prior notice due to improvements and/or modifications.
Need a solution for your plants?